Be a kick-ass boss without losing your humanity
It all started with a
dog named belvedere
As the team that delivers Radical Candor in New Zealand & Australia. It's important to learn about the conversation that inspired Kim Scott to bottle the magic of Radical Candor and share it with the world.
What
we do
We present Radical Candor to your organisation, introducing the core concepts, building a shared vocabulary and sharing stories that will help your team relate to the ideas. We'll then spend time answering questions and clarifying points, helping people begin to connect with Radical Candor. We'll then cover tactics that everyone can put into practice immediately.
After the initial introduction of the concepts, we'll move into hands-on training to help your team further internalise the concepts and learn how to apply them in your context. We guide your team through real-life scenarios in a safe and supportive environment, and give you actionable pointers on how to practice Radical Candor in your workplace.
As part of the workshops, we teach managers how to improve their feedback processes, and we help teams understand their role in the feedback process. As teams get started, we're there to clarify and answer questions.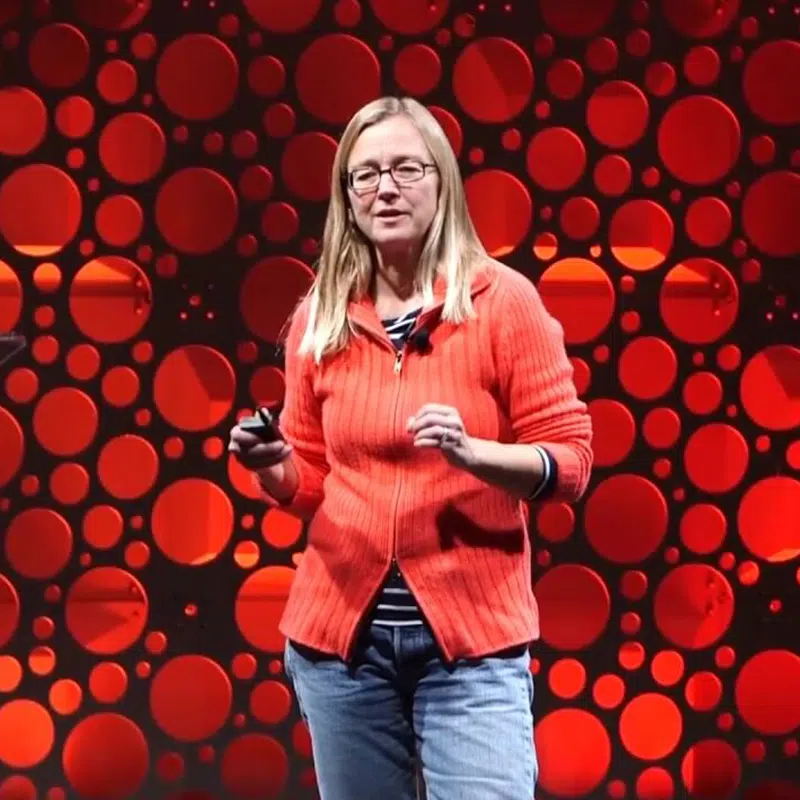 Kim Scott
Creator
Radical Candor™ is a unique approach to empowering you to have stronger conversations with all the people you lead, to ultimately create breakthrough results in effectiveness, relationships and leadership excellence.
Radical Candor really just means saying what you think, while also giving a damn about the person you're saying it to. But why does something so simple feel so radical?
Throughout our careers, as both business leaders and executive coaches, we've realised that – culturally – people in organisations struggle to have direct and caring conversations in the workplace. This lack of candour leads to breakdowns in communication, relationships and productivity. But it's something that can so easily be fixed with a simple, yet powerful, approach.
Why Radical Candor
is an "unnatural act"
Two nearly universal experiences make Radical Candor unnatural. One, most people have been told since they learned to talk some version of "if you don't have anything nice to say, don't say it at all".  When they become a boss, the very thing they have been taught not to do is suddenly their job.  Furthermore, most people, since they got their first job, have been told to be "professional". Too often, that's code for leaving your humanity at home. But to build strong relationships, you have to Care Personally. You have to bring your whole self to work.
Making the unnatural
feel more natural
Because Radical Candor is an "unnatural act", Kim developed a framework that would be simple enough that you can keep it top of mind in the heat of the moment. This 2×2 is a tool that you can use to guide your interactions and to help you gauge feedback — praise and criticism.
One of the best ways to make Radical Candor easier is to remember what happens when you fail to Care Personally and Challenge Directly. While the quadrants are named colourfully to help you remember to move toward Radical Candor, it's key to remember that these are not labels for people; they refer to a particular interaction or behaviour. Ultimately, everyone spends some time in each of the quadrants, and that's ok.
Obnoxious Aggression™
is what happens when you challenge but don't care. It's praise that doesn't feel sincere or criticism that isn't delivered kindly.
–
Ruinous Empathy™ is what happens when you care but don't challenge. It's praise that isn't specific enough to help the person understand what was good or criticism that is sugar-coated and unclear.
Manipulative Insincerity™ is what happens when you neither care nor challenge. It's praise that is non-specific and insincere or criticism that is neither clear nor kind.
MINDSET28 is a developmental tool not a "putting you in a box" tool, so the difference is that for the first time it gives people a pathway for continuous improvement rather than just telling a person who they are and how they will be forever.
ilume has a refreshing approach to executive development coaching which leads to transformational change in business performance. Working in partnership with ilume has helped our people firm wide with their professional career and person
al aspirations. ilume really believes in what it teaches and how best to empower our people.
Whether you aspire to be a CEO or you simply want to be the best you can be, I believe ilume can be a guiding hand for you.
It all starts with a conversation. A powerful conversation.
We only serve leaders and organisations we know we can help. Our time, like yours is valuable. We invite you to lock in a call with one of our principle coaches to see how we can bridge the gap from where you are to where you want to go.
Frequently asked
questions
How is ilume changing the way coaching is done?
Coaching in business has been around since the early 90s, but surprisingly, it hasn't evolved a lot since then. ilume is changing the way coaching is done via its unique approach which takes into consideration more dimensions of an individual. Coaching is well known as a behavioural tool, but at ilume we are no longer satisfied with the notion that this will provide all the answers to leaders of business in today's more complex and ambiguous world.
Most coaching in the past and even today is based on behavioural change and coaching to change certain behaviours of a leader, but at ilume we think that is too one dimensional. Our leaders are made up of much more than just their behaviours! Our leaders are facing into greater uncertainty and can often feel as thought they are in over their heads and are facing a developmental challenging of growing a bigger mind.
Consequently, ilume decided to take a different approach, and in 2010, developed a robust, evidence-based coaching methodology that examines a person's hidden dimensions that brings with it lasting developmental change and a recognition of a person's true potential capacity for further growth. We call this approach MindSet28.
We have been delivering this work in Australasia for over seven years and have established a new paradigm in executive development that high-performing organisations are talking about. Those who have worked with us tell us they have become smarter, more agile and ultimately have competitive advantage.
What should leaders expect when they work with ilume?
Prepare to be challenged – ilume provides a developmental tool that weaves together all the dimensions necessary for excellence in executive leadership and anyone coming on the journey is going to find out where they are placed right now in regards to how well placed they are to do the job.
All leaders must be prepared to commit to high-performing change – it's part of what you sign up to in accepting the role. The work with ilume develops the leader quantitatively and qualitatively, so commitment over a period of time is essential. This is not a quick fix strategy to developing the best leaders.
Ultimately, particularly in the residential team leadership program, they will see increased drive, greater self awareness, clearer strategic thinking and a path to long-term life balance. Instead of life balance and high performance business competing against one another, it starts to work in harmony. Clients who work with us say it's simple – they call it awesome transformational change.
So what can MINDSET28 do for CEOs of major organisations?
We think this question can be best answered by the CEO of one of ilume's foundation clients, PwC New Zealand. CEO and Managing Partner Mark Averill attributes their high performance culture to taking the majority of their partners through the MINDSET28 leadership development program. A big strategic move for PwC as the program asks for the partners, who are the leaders and rainmakers of the business, to come away from the day-to-day delivery of client work and develop their leadership on a six-day residential program. That said, Mark acknowledges that it has definitely given them sustainable competitive market advantage and the program had a hand in him eventually becoming the CEO of the organisation.
The empowerment that we saw when we spoke to some very technical partners at PWC really gave us the reassurance that this is the approach we should be using with more CEOs and senior leaders.
There are many development tools available to businesses today but nearly all are competency or behavioural-based assessments and for an organisation that relies entirely on talent and high performance culture, which PWC are, the MINDSET28 approach has proven to be the most effective.
Of the various personality profiling tools MINDSET28 is the only one that doesn't put you in a box forever and we think that is really important.We have personally been through many of these assessments and they always leave you in a specific category for life, but that's just not realistic. Actually, it's a worrying message that leaders are unable to develop any further. MINDSET28 is a developmental tool, not a "putting you in a box" tool, so the difference is that for the first time it gives people a pathway for continuous improvement rather than just telling a person who they are and how they will be forever.